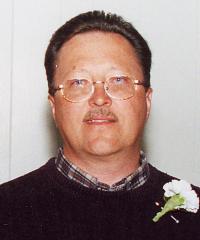 AT THE TIME OF INDUCTION ON MAY 12, 2001 -- Class of 2001...
SUMMARY
Steve was a product of junior leagues in the late 1960's and early 1970's. He was probably the most dominant bowler in Kokomo in the late 1970's and early 1980's. He would take a shot at the PBA tour and have moderate success but not enough to make a living. Steve moved to Lafayette in the mid-1980's and has become one of their premier bowlers.
CAREER HIGHS
Game - 300
Series - 823 (In Lafayette)
Average - 226 (Lafayette record)

MAJOR BOWLING ACCOMPLISHMENTS
Steve has captured the following city tournament titles. He may have captured a couple additional team events that have not been verified.
1980 - Team actual
1980 - Doubles actual with Ed Martin (1281)
1981 - Singles actual (644) and was 2nd again in singles actual in 1983
1981 - Team actual
1983 - All events actual (2042)

Steve was a PBA member for eight years and his top finishes on the PBA National Tour were:
4th in Fresno, California
6th in Waukegan, Illinois
7th in Indianapolis

Steve also won one PBA regional tournament.
He bowled in the Indiana All-Stars and the Midwest Bowling Association, won eight MBA titles, and was the 1981 MBA Bowler of the Year.
Included in his statistics are 13 perfect 300 games, two of which were rolled in Kokomo sanctioned leagues, and an 801 series and an 823 series since moving to Lafayette. Steve was Lafayette's 1989-1990 Bowler of the Year and averaged 226-a Lafayette record.
Steve was probably the top league bowler in the early 1980's, e.g., as of February 7, 1981, there were 58 series of 700 or higher in Kokomo that season-Steve had 17 of them.