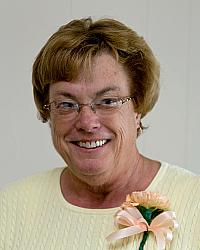 City Titles:
SEASON

EVENT

CATEGORY

SCORE

1985-86

Division II Doubles w/Sharon Ballard

Handicap

1359

1991-92

Doubles w/Ralene Ramberger

Handicap

1368

1991-92

Doubles w/Ralene Ramberger

Actual

1158

1991-92

Team w/Goobers

Actual

2961

1991-92

Team w/Goobers

Handicap

3294

1992-93

Team w/Here We Go Again

Handicap

2591

1992-93

Team w/Here We Go Again

Actual

3118

1996-97

Team w/Strike Shop Too

Handicap

2963

1996-97

Doubles w/Ralene Ramberger

Actual

1256

1996-97

All Events

Actual

1808

1998-99

Team w/Strike Shop

Actual

2853

2001-02

Team w/Strike Shop

Actual

2813

2002-03

Doubles w/Kathy Exmeyer

Actual

1188

2003-04

Kokomo Seniors Tournament

Division D

2002-03

Kokomo City Mixed Tournament

Team w/3+Roy

Actual

2002-03

Kokomo City Mixed Tournament

Team w/3+Roy

Handicap
Silver Award - 1994-95 - High Game (Tie) - 278
SERVICES
2003-04 KWBA Secretary-Treasurer
2002-03 KWBA Secretary-Treasurer
2001-02 KWBA Secretary-Treasurer
2000-01 KWBA Secretary-Treasurer
1999-00 KWBA Secretary-Treasurer
1998-99 KWBA Secretary-Treasurer
1997-98 KWBA Secretary-Treasurer
1996-97 KWBA Secretary-Treasurer
1995-96 KWBA Treasurer
1994-95 KWBA Director
1993-94 KWBA Director
1992-93 KWBA Director
1991-92 KWBA Director
1990-91 KWBA Director
1999 elected National Delegate in Indianapolis, Indiana
1995 elected National Delegate in Tucson, Arizona
1995 elected State Delegate in Kokomo
1997 elected State Delegate in Terre Haute
1998 elected State Delegate in Double "I"
1999 elected State Delegate in Indianpolis
2000 elected State Delegate in Anderson
2001 elected State Delegate in So Bend-Mish.
2002 elected State Delegate in Indianapolis
2003 elected State Delegate in Muncie
2004 elected State Delegate in Indianapolis
2005 elected State Delegate in Anderson
Lynn has participated in approximately 15 WISBA, 25 KWBA Tournaments, and 9 Indiana State Queens Tournaments. Her best finish in the Indiana State Queens Tournament was ninth in the 1998 competition.
Lynn considers her record-breaking 743 series to be her greatest achievement. On October 25, 1995, she scored her highest series of 743, which was a city record that never made it to print in the books, because it was broken shortly after in the same season.
On February 16, 2000, Lynn missed game perfection with the KWBA's lone 299 for her career high game. Other honor scores include her first 700 on March 8, 1992, and a 710 series in February 2000.
Her high games include an association season high 278 tie with Anna Ramberger and Beth Stanley, which qualified them for the KWBA Gold Award for the 1995 season. Other high scores include 2-279's (1995, 1999), 2-277's (1995 and the most recent 277 scored on March 17, 2004), and a 276 (1993).
Lynn's titles extend into the UAW tournament also. In 1992 and 1999, her team won UAW tournament regional championship and in 1992 team international title. She was UAW tournament champion two years in singles event and all events.
She is a member of the Local, State, and National 600 Clubs. Lynn is also a member of the Les Dames 700 Club and the State 700 Club.
She participated in a WISBA Area Fun Day/Workshop and two State Joint Jamborees held in Kokomo.
As a member of the Hoosier Women Bowling Writers (HWBW), Lynn won the Newsletter Award (1996 and 2000) for the Telebowler, the Niemier Feature Writer Award (1999), and the Graphics Award for the Jamboree book (2000).
Lynn has been a member of the Joint Committee since its inception in 1995 when the KBA and the KWBA united to bring the membership the Joint Hall of Fame Ceremony and the Monte Carlo Night.
She worked for the promotion of the 1995 State Bid in 1991-92 and the KWBA Restructuring Committee in 1995-96.
When the KWBA hosted the WISBA Championship Tournament in 1995, Lynn worked in the Doubles/Singles Office.
She is a past secretary for Friday Nite Early Birds and former Astronette League president. She continues to serve as the secretary for the Scratch Draft League since 1990.