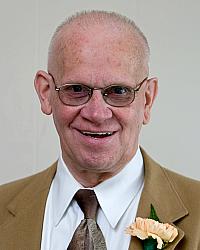 AT THE TIME OF INDUCTION AS A CHARTER MEMBER IN 1986...
Jack Bender was a life member and past president of the Kokomo Bowling Association (1971-72). He was serving his sixth year as secretary-treasurer of the Kokomo Bowling Association and served in that position until 1992 (1980-81 through 1991-92). He has been a Pro Bowlers Association member for ten years. Jack owns many city championship titles and was runner-up with Carl Babb in the Indiana State Championship Doubles event in 1982.
CHAMPIONSHIP TITLES:
1972 KBA All Events Actual--1839
1972 KBA Doubles Actual with Jack Kilburn--1267
1977 KBA Doubles Actual with Mark Snodgrass--1232
1977 KBA Doubles Hcp with Mark Snodgrass--1298
1978 KBA Doubles Actual with Jim DeSchamps--1211
Team titles not listed at this time.

Jack was also instrumental in the formation of the Kokomo Bowling Council in 1986 and was manager of Don Lowry Lanes West at the time of his induction.
Since his induction...
1995 Became a lifetime member of Indiana Bowling Association
04-01-1997 Rolled a 300 Game
03-04-2000 Inducted into Indiana Bowling Association Hall of Fame
07-03-2000 Rolled a 300 Game
COMPILED UPON HIS DEATH ON SEPTEMBER 6, 2018
Kokomo Loses Another Local Bowling Giant
Kokomo lost another bowling giant when Jack Bender passed away on Thursday night. Bender was a life-long resident of Kokomo who wrestled for coach Bob Hamilton at Kokomo before graduating in 1958. His life changed when he first stepped on the lanes in 1959 "for a little fun".
Bender had an extensive and impressive bowling career from both a performance and service perspective. He contributed to the sport locally in many ways.
On the performance side, Bender had been a member of the Professional Bowlers Association since 1977. In his career, Bender tossed three perfect 300 games. It took him 38 years of bowling to first reach that goal of all bowlers on April 1, 1997 and three years later he repeated the feat. His last perfect game on February 19, 2004 allowed Bender to toss his career high series of 813 as he followed it up with games of 238 and 279.
Bender tossed about 100 series of 700 or over including 32 in the 1999-2000 season.
Bender averaged over 200 for eleven straight seasons from 1994-95 through 2004-05 with a career high of 221 in the 1999-2000 season. Bender was one of the better spare shooters in town throwing his plastic Black Knight on a straight line.
He also captured a number of City Tournament titles. His first title came in 1972 when he captured the All Events title with a score of 1839. He captured Doubles Actual titles with Jack Kilburn in 1972, Mark Snodgrass in 1977 and Jim DeSchamps in 1978. The title with Snodgrass was also good for the handicap title. He captured Team Actual titles in 1978, 1985 and again in 1987. He tacked on three Team Handicap titles also.
He had the high actual scores in the Indiana State Senior tournament in 2001 with 893 (4 games) and in 2006 with 746. He shot over 700 actual several other times. He rolled in an estimated 20-25 ABC National Tournaments shooting 710 in Singles and 1880 All Events in 2006.
But even with all of these bowling accomplishments, it was in the service arena where Bender truly made his mark. It seemed like he contributed most of his life to bowling. He was president of the Kokomo Classic League for 25 years. He started to serve with the local association in 1966. He served on the Kokomo Bowling Association (KBA) board including president for the 1971/72 season. He was in the chain of vice-presidents again when he resigned to serve as the Association Secretary/Treasurer where he from 1980 to 1992. This was before computers became widespread meaning a LOT of manual paperwork. During this time frame he was the Assistant Tournament Director for the state tournament when it was hosted in Kokomo in 1984.
In 1986 Bender was named the new manager and resident professional at Don Lowry Lanes – a position he would hold for over 25 years. While in that position, the center hosted a number of events in support of the KBA including Monte Carlo night and the "Bowling is Cool" youth clinic. He was instrumental in the formation of the Kokomo Bowling Council creating an integrated organization focused on local bowling (men, women and youth). He then became active in the Indiana Bowling Association where he was once named the Director of the Year. In 1993, he resigned as KBA secretary/treasurer so that he could focus on his upcoming role as president of the Indiana Bowling Association.
If you bowled at Don Lowry Lanes, he was always there as if he lived at the center. Most years he bowled multiple leagues including five leagues from the 2010-11 season through the 2014-15 season. He was eager to help and coach. He was a true advocate for the sport.
For all of this service, he was an inaugural member of the KBA Hall of Fame and later also inducted into the Indiana Bowling Hall of Fame.
Upon Bender's induction into the Indiana Bowling Hall of Fame, Gene Conard wrote an article that quoted significant but now deceased Kokomo bowlers that summarizes Bender's contributions well.
Don Johnson, one of Kokomo's best-ever athletes, a 14-year PBA member and 37-time champion, called from Las Vegas to say: "Don Lowry was involved with every aspect of the game, locally, statewise and nationally. He started the Youth Bowling Association (YBA) and was always there for the bowlers. Jack is merely stepping into his shoes and belongs in the Hall."
Bob Colburn, owner and proprietor of Lowry Lanes, offered: "Jack is very deserving of the honor in more than one category. He's not only a great bowler or association person, but he has a great desire to make sure the game grows and grows."
Tex Thornton, who had bowled for a half-century and was one of the best around, said: "I've known Jack in all capacities, and he's been a tough but honest competitor all the way. He's never missed a convention and is always on the lanes."
Clancy Clary had been a Kokomo bowling household name dating back prior to Bender's early days. Said Clary: "Jack's career speaks for itself. He took over as association secretary when nobody else would and served bowlers well. He deserves to be in the Hall."
As Jack's memory began to fade, his bowling participation also declined. May our memory of Jack and his many contributions live on for a long long time.