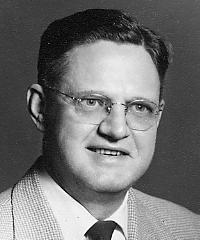 AT THE TIME OF INDUCTION AS A CHARTER MEMBER IN 1986...
Bud Fridlin learned to bowl at age 13 on two lanes in the basement of the Kokomo YMCA. He was a life member of the Indiana Bowling Association. He served as president of the Indiana Bowling Association in 1940. As a senior at Purdue University in 1927, he won Purdue's bowling singles championship. He was secretary of the Kokomo Bowling Association from 1932-1941. He won seven KBA championship titles.
CHAMPIONSHIP TITLES:
1944 KBA Doubles Actual with Jim DeVinney--1237
1944 KBA Doubles Hcp with Jim DeVinney--1336
1933 KBA Singles Hcp--677
1947 KBA Singles Hcp--720
Team titles not listed at this time

He operated The Bowling Center located on North Main Street from the early 1960's to early 70's and resided in Richmond.
Since his induction...
03-05-1988 Inducted into Indiana Bowling Association Hall of Fame
Bud died November 4, 1990, in Winchester.