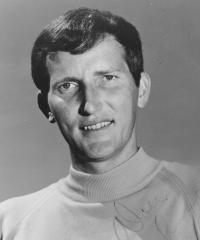 AT THE TIME OF INDUCTION AS A CHARTER MEMBER IN 1986...
At age 15, Don Johnson, a Sharpsville resident, started bowling at Play Bowl Lanes. "The Kokomo Kid" won 26 Pro Bowlers Association titles and was named back-to-back Bowler of the Year in 1971 and 1972. He was inducted into the American Bowling Congress' Hall of Fame in 1982. Don was also inducted into the Indiana Bowling Association Hall of Fame on March 4, 1978, and the Pro Bowlers Association Hall of Fame in 1977.
In 1999, Don was selected by the Kokomo Tribune Sports staff as the fourth greatest Howard County athlete of the 20th Century. In addition in 1999, he was voted the eighth best bowler of the century by the American Bowling Congress and was selected to the top 25 athletes of Las Vegas.
Don set a PBA record of at least one victory in 12 consecutive years (1966-77) that stood until Earl Anthony won 14 straight seasons.
He rolled 30 games of 300 and appeared on the Professional Bowlers Show 46 times.
CHAMPIONSHIP TITLES:
1961 KBA All Events Actual--1816
1961 KBA Doubles Actual with Carl Babb--1264
Team titles not listed at this time.
The bowling world was saddened with the death of PBA Don Johnson on May 3, 2003.