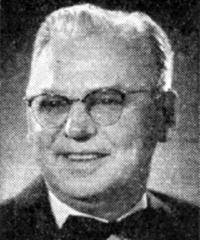 A CHARTER MEMBER (POSTHUMOUSLY) IN 1986...
Fred served as secretary-treasurer of the Kokomo Bowling Association in 1954 and served in that capacity until his death in 1963. He was also vice president of the Indiana Bowling Association.
CHAMPIONSHIP TITLES:
1940 KBA All Events Actual--1864
1940 KBA All Events Hcp--1957
Team titles not listed at this time

Fred passed away in 1963.