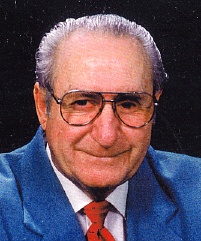 AT THE TIME OF INDUCTION ON MAY 13, 1994 -- Class of 1994...
George started bowling in High School in 1938-39 when KBA Charter Hall of Fame Member J. Paul Jones formed a Kokomo High School League to introduce students to bowling. George started adult leagues bowling as a sub in 1940 and became a regular member until 1943 when he was drafted into the Army. After 34 months in the Army, George returned to Kokomo to work at Steel Parts in Tipton where he retired from Steel Parts as Vice President. While at Steel Parts, George bowled at Tipton and at Kokomo with a unique team. All were left-handed including their subs.
In the early 1980's, George was a member of the WWKI Keglers team that challenged all takers--men or women. They bowled as a five-member team on Sunday mornings and rotated around the city, bowling in all lanes. They had a unique format whereas they bowled as a team, but each person had to beat the one opposite him in the lineup. The show was taped and shown on television on channel 3. The Keglers achieved an 82% winning record, but the show was cancelled when teams failed to accept the challenge. WWKI received a tremendous amount of mail following the cancellation.
After retiring, George took an interest in Senior Bowling and has enjoyed it very much. He felt the competition was there without the pressure of winning.
George was elected to KBA Board of Directors in 1984 and progressed through the chairs and served as KBA president in 1987-88. He attended two lane certification schools and became efficient in the inspection and certification of lanes. With the advent of "short oil" and the ABC's three-unit rule, honor scores increased in the city, as did his services to the Association to accommodate.
George's best sanctioned game was 279 and high series was 679. He has been a sanctioned bowler for 51 years and currently bowls in three leagues with an average of 176.