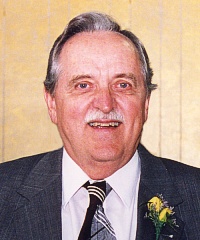 AT THE TIME OF INDUCTION ON MAY 11, 1996 -- Class of 1996...
TOURNAMENT TITLES:
He won team event in Wapakoneta, Ohio, Tournament
Dan won the General Motors Tournament team event and singles with handicap in 1971.
He won Olley Polley Doubles Tournament in Marion with Ray Cameron

Dan started his bowling days as a pin boy for Evans Bowling Academy (Sycamore Lanes) in 1945. His first league bowling was in the mid-50's after serving four years in the Navy. Chuck Lucas wa able to get Dan to bowl on his Thursday night scratch league team with Jim Fisher, Hall of Fame Member Ray Cameron, and Fred Stout. He spent many years bowling with this team.
He served many years on the KBA board, and in 1980-81, Dan served Kokomo Bowling Association as association president. He was also elected a Life Member of KBA.
Dan is the first bowler to score a 300 in the KBA Championship Tournament (April 2, 1978). Six month later he rolled his second 300 game on October 22, 1978, to become the second bowler to roll two perfect games in Kokomo. Both games were rolled at Don Lowry Lanes. He also scored a 300 game during practice play.
He won the New Year's Doubles Tournament in 1963 by rolling a 689 actual with partner Floyd White.
Qualifying third to bowl in an exhibition against the Stroh's team in 1966, Dan was able to finish second and received a wrist watch for an award.
Dan participated as an amateur in the only PBA event ever to be held in Kokomo in 1967. Of the six amateurs, Dan was high averaging 197.
He placed third in New Year's Doubles Tournament in 1968 with Ed Gray.
With his first 700 series being scored at Cedar Crest Lanes on February 11, 1971, he has shot more than 15 700 series.
Dan participated in the Peterson Classic at least 10 times and has been high for his squad.
Dan bowled in the All-Stars in the 1970's, won the tournament in Bloomington, and finished in the top five several times. Dan's high game in the All-Stars was 288.
Dan regularly participated in the IBA Tournament and ABC Tournament. He continues to bowl with the Kokomo group even though he has retired in Arizona.