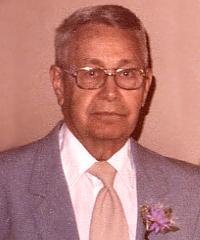 AT THE TIME OF INDUCTION ON MAY 10, 1997 -- Class of 1997...
Branch is the first KBA Hall of Fame inductee to be elected by the KBA Hall of Fame members as part of the newly instituted Veterans Committee process. This means that he is being recognized by the KBA Hall of Fame members themselves as a significant contributor to the game of bowling in Kokomo.
Branch was a sanctioned bowler in Kokomo for almost 50 years. He was a dedicated family man and a dependable teammate. He also gave back to the sport locally in a variety of ways.
Branch got his start in bowling the way many young men did back then. He was a pinboy. He set pins for four years while in high school.
Branch was one of the better bowlers in town. His peak years were in the 1950's when he averaged 192 for three years. He recorded a career high game of 290 and series of 690. He participated in the City Tournament for over 25 years.
Branch captured one City championship when he teamed with Keith Pettay to win the 1956 Doubles title. He also participated in the State and National tournaments. His top State finish was 12th place, again in doubles with Keith Pettay.
Branch also won the 1950 Sportsmens Classic in Gary.
Branch was selected to participate in exhibitions with Andy Varipapa and Buddy Bomar. These were two of the top names in the sport in the 40's and 50's.
Branch's selection to the Hall of Fame can probably be attributed as much to his service to the game than his bowling prowess.
Branch was secretary of both the Victory League and Uptown League for at least 10 years. He was a KBA board member for four years. He was a three-time president of the KBA, serving in 1948, 1949 and 1955. He was known to be a man of integrity that truly spoke and acted on behalf of the bowlers of Kokomo while serving on the board.
He also helped other bowlers with their games. Charlie was a lefty and he taught Vern Kirkman how to throw a hook ball so he could get Kirkman off his side of the lane. They would practice during lunch hour at The Bowling Center on Main Street. Kirkman would become a very good bowler also.
In summary, Branch was one of the men who kept bowling going in the right direction locally when the game was experiencing major growth and is being rewarded tonight for his contributions to the game.