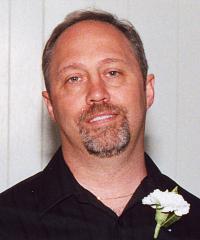 AT THE TIME OF INDUCTION ON MAY 10, 1997 -- Class of 1997...
SUMMARY
Danny came up through the junior leagues in the late 1960's and early 1970's. It wasn't long before he was averaging 200 and gave the PBA tour a shot. Although not successful on the PBA tour, he has been one of the top bowlers in Kokomo for 20 years.
SERVICE
Danny coached the junior league program for several years.
KBA board member for one or two years.
BOWLING PARTICIPATION AND ACHIEVEMENTS
Danny bowled the PBA tour with brother Steve from 1978 through 1980.
Danny holds the Kokomo record 3 game series of 856. This record, rolled at Cedar Crest on 2/3/81 has stood uncontested for 15 years.
Danny has rolled 5 perfect 300 games in Kokomo league play. He has another rolled in tournament play at Western Bowl.
In addition to his 856 series, Danny has rolled 8 series of 790 or higher, two of which were rolled in Kokomo. He has many other series over 700.
Danny bowled in the Indiana All Stars and won 6 titles.
Danny bowled in the Midwest Bowling Association and won 3 titles.
Danny has captured the following City Tournament titles:
1981 Singles actual - 681
1988 Team actual
1990 All Events actual
1995 Team actual

Danny has consistently averaged over 200 for about 20 years. He averaged 212 in the 1994-1995 season.