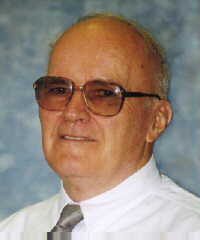 AT THE TIME OF INDUCTION ON MAY 9, 1998 -- Class of 1998...
SUMMARY
Ralph was a very nice person and a tough competitor. He let his bowling do the talking. Ralph bowled in leagues from 1947 through 1978. He was the second bowler in Kokomo to use a finger-tip ball, making the conversion around 1950. After being away from the game for several years, he came back to work as a lane attendant at Don Lowry Lanes. Many bowlers can remember the cries upon leaving "dead wood" on the lanes -- Hey Raaalph!
SERVICE
Ralph was the President of the Scratch League the first year after it moved from Play Bowl to Don Lowry Lanes in 1976.
CAREER HIGHS
Game - 280
Series - 699
Average - 192

BOWLING PARTICIPATION AND ACHIEVEMENTS
Ralph has captured the following city tournament titles.
1953 - All events actual (1806)
1956 - Team actual
1959 - Team actual
1966 - Doubles actual (1229) and handicap (1310) with Jack Currens
1969 - Singles actual (676) and handicap (706)
1969 - All events actual (1804)

His 280 game won the ABC Merit Award for being the KBA high game for the 1951-52 season.
Ralph has had at least 5 series over 680, with 3 of those over 690. Ralph's bowling excellence covered quite a span of time. He rolled series over 670 from 1951 to 1970.
Although he never had a sanctioned 700 series, in 1951, he did roll a 708 series to be top qualifier for an opportunity to roll an exhibition match against the great Andy Varipapa. In the actual exhibition, Ralph started with 6 strikes in a row but eventually lost to Andy by a 250's to 240's score.
Ralph's high career average was about 192. Ralph usually averaged in the upper 180's. This was an excellent average considering Ralph only bowled one night a week and this was not the highest scoring era in Kokomo.
Ralph rolled a 200 triplicate in 1952.
Ralph finished 4th in singles actual in the 1951 Moose State tournament with a 677 series (2nd handicap with 756).
Ralph was a member of the team finishing 4th in the 1957 State Moose tournament.
Ralph finished 3rd, only one pin out of first, in the 1958 Derby Doubles with partner Rosie Currens.
Ralph was a member of the Buckner TV team that finished 5th in the Indiana State tournament.
Ralph participated in the ABC tournament 3 times and the Indiana State Tournament at least 5 times. He also participated in the Peterson Classic, Wapokoneta (Ohio) and West Side (Indy) tournaments.