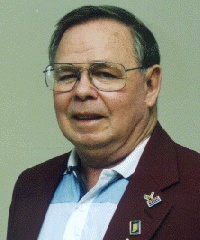 AT THE TIME OF INDUCTION ON MAY 8, 1999 -- Class of 1999...
SUMMARY
Truman Power has been very active in the KBA for over twenty years. He participates frequently in the City, State and ABC tournaments. Over the years in his service to bowling, Truman has shown that he is very helpful and will go the extra mile to help anyone. Truman will take on problems and attack them directly. He will also give you that pat on the back for a job well done. He is a Life Member of the KBA.
SERVICE
Truman has been involved with the KBA beginning in 1974. He has served as President on three separate occasions in 1978, 1983 and 1989. He has been a league president for one year. Truman was a league secretary for two leagues for a total of five years. He has been vice-president of the Flying Eagles league for about 26 years.
CAREER HIGHS
Game - 275
Series - 710
Average - 186

BOWLING PARTICIPATION AND ACHIEVEMENTS
Truman has rolled a total of four 700 series.
Truman has won the following City Tournament titles:
1989 Doubles handicap with Dick Benke with a score of 1321
1990 Doubles actual with Dick Benke with a score of 1284
1990 All Events handicap with a score of 2024

Truman was a member of the Eagles National Team Actual champion team in the tournament held in Muskegon, Michigan in the mid-1970's.
Truman has participated in the State Tournament about 10 years.
Truman has participated in 13 ABC Tournaments.