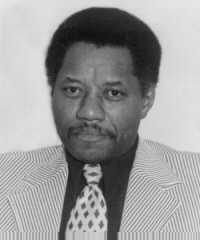 INDUCTED POSTHUMOUSLY ON MAY 13, 2000 -- Class of 2000...
SUMMARY
Clarence was a very likable person who was also a leader. Clarence loved bowling and was active in the sport. He was an excellent bowler that could compete with anyone. He was a great ambassador for the game. He is the person most responsible for breaking down the color barrier in bowling in Kokomo. He overcame polio as a child and became an excellent bowler even with an under-developed left leg.
As an employee of Continental Steel, Clarence wanted to bowl with several of his co-workers in the Continental Steel League. At that time, black people were not permitted to bowl. When you told Clarence the he couldn't do something, it just made him more determined. In order for Clarence's team to bowl, the league had to get permission from the bowling center. About 1957, Vern Vaught, who was Continental's recreation director, contacted Bud Fridlin. Fridlin, as manager of the Bowling Center on Main Street, agreed to let the team bowl after Vaught explained that the Continental League was for all Continental employees. Clarence named his team "The Hurricanes" and his teammates were George Fort, Bob Woods, Miller Bender and Bob Keller. Alot of guys were wanting to bowl but couldn't find a place to bowl. Once the barrier was broken, Clarence was a big influence and brought many new bowlers into the game. He also worked with their bowling to improve their games. Clarence was also active in the community and church. In the latter years of his life he became a minister.
SERVICE
Primary person responsible for breaking the color barrier in Kokomo bowling
Tried to get everyone he know involved in bowling and brought many new bowlers into the game
Worked with other bowlers to improve their game (Example - Worked with Herschel Davis to convert him from a back-up ball to a hook ball.)
Formed and participated in a church league

CAREER HIGHS
Game - 297
Series - Not known (at least mid-600's)
Average - At least 181

BOWLING PARTICIPATION AND ACHIEVEMENTS
Rolled a 297 game at Play Bowl in November, 1973
1984 City Tournament Team Actual (2985) and Team Handicap (3261) Champion (The Swingin' Grandpa's)
Won "Best Black Bowler in Kokomo" Tournament (Scratch Qualifying with Step-ladder finals)
Won Continental Tournament Team event 2 or 3 times including 1974
Bowled in the Kokomo Classic Scratch League
Bowled in the Indiana All-Stars in the 1970's
Won 25-30 1st, 2nd and 3rd place league trophies
Participated in many City Tournaments
Participated in the Peterson Classic in Chicago several times and in the American Legion Tournament every year