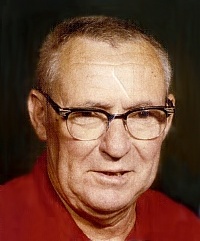 INDUCTED POSTHUMOUSLY ON MAY 12, 2001 -- Class of 2001...
SUMMARY
Elmer Cook was one of the top bowlers in Kokomo from the middle 1940's through the middle 1960's. Elmer was a right-handed bowler that shot many 700 series for the era and was a multiple-time city champion.
CAREER HIGHS
Game - 279
Series - 733
Average - At least 194

BOWLING PARTICIPATION AND ACHIEVEMENTS
Elmer won the following KBA Championship Titles
1945 Team Actual
1948 Team Actual
1951 Team Actual
1952 Team Actual
1954 Doubles Actual with Fred Hurstel
1960 Team Actual

He was also second in All-Events in 1959 by one pin with 1809

Elmer averaged 194 to lead the Cross-Town League and was team captain of the Quality Body team that won the league championship. Other bowlers in the league to average 190 were "Lefty" Willer, Fred Hurstel and Cecil Symons. He led the Cross-Town league in other years with averages in the low 190's.
Elmer scored eight 700 series from 1946 to 1956. According to the newspaper scores gathered by Jon Kelley, this was second only to Fred Hurstel's career total of 19 and one ahead of Don Lowry's seven. He had another three series over 690 and another five of at least 680. As a member of the Barney's Sandwich Shop team, he helped put their team in the record books in 1948 with a 3220 series record score.
He finished second to Francis Fisher in the 1949 City Match Play Championship finals. In addition, in 1949, Elmer had three series over 600 in a week again. He was the only person in those last three seasons to do this, and he did it multiple times.
In the 1950 State Tournament in Terre Haute, Elmer captained his Hi-Grade Cleaners team to a 2903 score. This was third place at the time but ended up outside the top five.
In the fall of 1950, Elmer was one of seven Kokomo bowlers selected to roll in an exhibition against Buddy Bomar. Elmer won his match 183-166.
In 1951, he shot 616 to pace Brown's Standard Service team to a 2797 score at the ABC in St. Paul, Minnesota. Additionally in 1951, he was a member of Brown's Standard Service team that finished tenth with 2853 in the State Team event in Fort Wayne.
Elmer also shot 662 in Singles (fourth at the time) and 1205 in Doubles (third at the time) in the State Tournament in Kokomo. Neither score finished in the top five.
In 1955, Elmer was a member of the Standard Packing team that won the State Elk's tournament with a score of 2937.
Again in 1957, Elmer was selected to roll in an exhibition. This time it was against the Falstaff Exhibition Team. He shot 546, which was third high on the Kokomo team. Elmer continued to shoot 600 series' into the late 1960's.