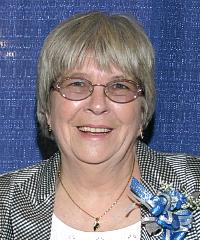 SERVICES
1993-94 KWBA Director
1994-95 KWBA Director
1995-96 KWBA Director
1996-97 KWBA Director
1997-98 KWBA Director
1998-99 KWBA Director
1999-00 KWBA Director
2000-01 KWBA Director
2001-02 KWBA Director
2002-03 KWBA Director
Pat returned to bowling after she retired 17 years ago and now works to serve the bowler. Pat enjoys her role of working with bowlers. If a job needs to be done, she steps forward to help.
Pat was elected in 1993-94 as a KWBA Director, and she continues to serve the KWBA as a director. She has worked on KWBA Awards and Tournament Awards, Tournament, Nomination, Ways and Means, Mission and Goals, Lane Certification, and Legislative Committees.
She became the Eagles Lanes Representative for Membership Development in 1997-98 and Membership Development Senior Coordinator in 1999-00, and she continues in those roles.
In 1995, she was a WISBA Tournament Volunteer and has worked the Monte Carlo Night since its inception. Pat also works as a volunteer for the KWBA's Share-the-Pot.
She served the Eagles as its Lane Representative, assisted as a YABA volunteer, and currently she holds office of Secretary-Treasurer for the Eagles Wednesday Morning Seniors.
She has been the Thursday Morning Donuts Secretary-Treasurer for 13 years and the Terrific Trio Sergeant-At- Arms from 1995-2001 until taking position as its Vice President. She also has served as Vice President for the past two years on the Independents league.
Currently, she is the KWBA 500 Club Secretary-Treasurer. Pat served as the Tournament Manager of the 500 Club Trio Tournament last season.
She bowled in the KWBA Championship Tournament since 1991, The Kokomo City Mixed Tournament since 1995, and participated in three 500 Club Tournaments.
With seniors partner Chuck Hewitt, Pat won the Seniors Doubles Event two years ago; she also won the Singles Event and All Events in the same tournament. Most recently, Pat won the championship title of the 2003 Kokomo Seniors Tournament in Division C Handicap (774).