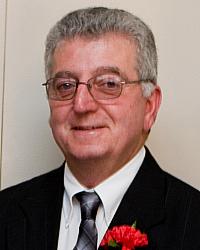 SUMMARY
Bob had a great early start to his bowling career before an injury set him back. He began bowling in the sanctioned competition arena in 1968 when he bowled in a high school league at Plaza Bowl in Marion. Having a mentor, he quickly improved. He hustled bowling at Jo-co lanes in Marion in 1970 and bowled in regional tournaments in California in 1971. Bob was wounded in Vietnam in 1972 cutting his bowling career short, at least from the caliber of excellence he had attained.
Bob has been in the Kokomo area since 1983; while in Kokomo, he has contributed greatly with time and service to the bowlers in Kokomo.

SERVICES
KBA board member since 1990 and a Life Member of the KBA
KBA president 1996-1997 season
KBA Assistant Secretary since 1999
Bob served on most KBA Committees, and probably all of them, during his 17 years on the KBA Board.Member of KBA Nomination Committee since 1997-2005
Bob served on the City Tournament Committee (1992-96)
He was on the Scholarship Committee (1992-93)
Some other committees he was on included: Audit, Publicity, Hall of Fame, and Monte Carlo Committees
He served as a Lane Representative
Gave invocations at Hall of Fame from 1990-2004 and annual meeting from 1990-2005
Instituted KBA local awards
Coached new bowlers at the Learn to Bowl weekends
CAREER HIGHS
Game - 289 (17 times)
Series – 806 (unsanctioned 806 and 804 - highest sanctioned, 728)
Average – 225

OTHER ACTIVITIES
League secretary-treasurer of the Outcast league since 1989
Instituted 50/50 tickets in Outcast League in 1989 to prevent increase in bowling fees
Organized several church bowling leagues
Coached youth bowlers
Organizes teams for Postal Federal Tournaments
Organizes a squad for the Hoinke Tournament each year
Bob was active in the We Care Tournament and bowled with Dick Bronson and Junior Zimmerman
MAJOR BOWLING ACCOMPLISHMENTS
City Tournament titles
Averages:

225 in 1971
221 in 1972
210 in 1980
Top averages each year since 1993/94 are 175, 175, 182, 181, 189, 189, 196, 187, 182, 179, 186, 194

800 Series

Shot an 804 and 806 while bowling for armed forces league in San Diego, California

700 Series

Rolled numerous series over 750 while bowling in the armed forces league in 1971

He has participated in 25 Kokomo City Tournaments and 25 Indiana State Tournaments
Bob has competed in twelve national tournaments with a career average of 172 and high series score of 621
He bowled in many Postal Federal Tournaments as well as several Peterson Tournaments
In 1999, Bob finished in third place in the Postal Federal Tournament team event in Windsor, Ontario.
Bob has many league championship titles and individual awards including three 150 over series awards.