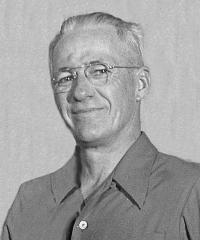 AT THE TIME OF INDUCTION ON NOVEMBER 7, 1992 -- Class of 1991...
Doc introduced many young people into bowling. Instead of practicing, you could find him helping kids with their game. He bowled more than 50 series of over 650 and was a dependable clutch bowler when a spare or strike was needed for the victory. He was an active tournament bowler and rolled a 700 series in a tournament in Muncie.
Doc was also well known for his powerful release and was thought to have the most powerful wrist and arm in Kokomo during his bowling career.
CHAMPIONSHIP TITLES:
1935 KBA All Events Hcp--1904
1949 KBA All Events Actual--1789
1949 KBA All Events Hcp--
1949 KBA Doubles Actual with Bill Thompson--1205
1949 KBA Singles Actual--674
KBA team titles not listed at this time.