Bowling in Kokomo - 1920 to 1925 -- Growth Continues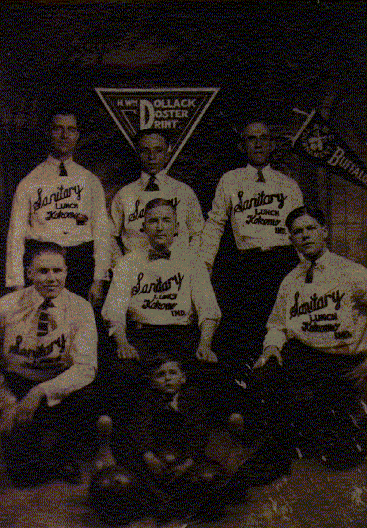 "Sanitary Lunch" - Team that went to the 1921 ABC Tournament in Buffalo - (Photo provided by Russell Maudlin)
Back Row: Bill Cooper, Claude Jones, John Garrett
Middle Row: Leroy Kulow, Carl Maudlin Sr., Forrest Maudlin
Front Row: Carl Maudlin Jr.
Trivia Question
The last trivia question was: "What event was added to track and field meets during World War I?". The answer is the "grenade throw"!
The next trivia question does pertain to bowling. The Buffalo Elk's team set two records in the 1925 ABC tournament for scoring futility. What were their low team score and low individual series records?
The answers will be provided at the end of this column.
The last article discussed how the hunger for competition in the years leading up to 1920, resulted in more Kokomo bowling tournaments and tournament participation. You will see that trend continue as the Kokomo Bowling History series rolls through the 1924-1925 season.
Jimmy Smith Exhibition
In October 1920, Jimmy Smith came to town for a bowling exhibition. Smith was recognized to be one of the best, if not the best bowler of that era. He was an ABC champion and held the 3-game series record of 771. The champion rolled 3-game matches against five local bowlers at the Menig Alleys. Kokomo bowling fans came out in force to support their bowlers. Over two hundred spectators squeezed into the six-lane Menig facility.
Smith easily defeated Leroy Kulow II, Claude Jones, Carl Maudlin and Bill Cooper. Then he ran into a "buzzsaw" in the form of Menig Alley manager Nick Karnejis. The "house mouse" outscored Smith in each of their three games, winning by a total of 657 to 613.
City Tournaments
The KBA City Tournament continued each year with the support of local merchants. Some of the prizes offered in the 1920 tournament were: half dozen pair of silk hose, silk muffler (this is not for your car!), dress shirt, two boxes of cigars (I know a good use for that muffler!), a hat, razor and flashlight.
High Scores
Scoring continued to escalate. On December 22, 1924, Bob Leffert rolled Kokomo's first 300 in a non-sanctioned match. New high series records were established by Leroy Kulow (670) and Homer Kilbuck (684). Other high scores were rolled by George Cryer (650, 652), Bobby Overton (652), "Fat" Hubert (653), Carl Maudlin Sr. (658), Nick Karnejis (666), Albert Cryer (666) and Bob Resener (678).
Resener was another of the good athletes that excelled in more than one sport. Resener was an even better golfer. He was a three time winner and three time runner-up in the Indiana State Amateur golf tournament, last winning in 1920. Up until a few years ago, he was the only Kokomo golfer to win the State Amateur. He won the KCC club championship a phenomenal 18 times. When the Indiana Golf Hall of Fame was formed in 1964, Bob was one of only four charter inductees.
World Record Set
In April 1921, two Kokomo men attempted to break the world record for marathon bowling. The record was 106 games in a period of 15 hours. Nick Karnejis and Bill Cooper started their marathon at 10 AM on a Wednesday morning. Cooper dropped out after 14 hours rolling 95 games while averaging 176. At 1:06 AM, the record belonged to Karnejis. He had tossed 110 games with an impressive average of 186 per game. Not surprisingly, Karnejis finished with a badly torn thumb! This also represented the first time pictures of local bowlers appeared in the Kokomo Tribune.
Tournament Champions
In 1922, the Kokomo American Legion team won the Indiana State Legion tournament. The team was composed of Bill Cooper, Bob Resener, Henry "Lefty" Willer, Bob Overton and Claude Jones. Resener also finished fourth in all-events with a score of 1820. This tournament was a "telegraph" tournament. This meant that bowlers rolled at their home alleys and mailed their scores in to tournament officials. Can you imagine how this format would work today? You think scoring is high now!
Recreation Alleys Open
In the summer of 1922, a new era began when the Recreation Alleys were built by Carl Maudlin. They were located at 315 1/2 North Buckeye over Seaward's Garage. Ten Brunswick lanes were installed in a large, well-ventilated room having a floor space of 66 by 132 feet. Also installed were comfortable rest rooms for the men and women, check rooms and lounging rooms and an up-to-date cigar and refreshment stand. Raised opera seats were provided for spectators. The price of bowling was only 15 cents per game.
A bowling exhibition was organized for the Recreation grand opening. Future ABC Hall-of-Famer Hank Marino participated as did Jess Pritchett. Pritchett had played baseball for the Kokomo Red Sox and was an excellent bowler. He later became a charter member of Indianapolis' Bowling Hall of Fame. In the only exhibition match involving a Kokomo bowler, Homer Kilbuck defeated Pritchett 645 to 623, to the delight of the cheering crowd.
The Industrial League and City League held special meetings to decide whether they would bowl at the Menig Alleys or the new facility. The leagues voted to bowl at the new Recreation Alleys, which effectively drove the Menig Alleys out of existence after several years.
The Recreation Alleys initiated a new tournament in April 1923 called the Recreation Pin Classic. The tournament format was six games across six lanes with individuals from other cities being invited to participate. The first tournament was very successful. Seventy-five entries represented eight cities. The winner of the inaugural event was Joe Fohn. He pounded out a score of 1215 included a lofty 280 game. Only one month earlier, Fohn became the first Kokomo bowler to shoot over 1800 all-events at the ABC tournament when he fired 1848 in Milwaukee.
Fohn continued his winning ways by capturing the six-game New Years day tournament with a score of 1274.
Youth Bowling
In February 1923, the Recreation Alleys started a junior league, finally providing the youngsters an opportunity for organized fun and competition.
In February 1925, 13 year old George Haseltine paired with Bill Cooper to wins a doubles match at the Recreation Alleys. George tossed a 558 series, high score for the four competitors. Even at this young age, George was showing the skill that would eventually enable him to set a Kokomo series record.
High Averages
High averages seen in this time period were Claude Jones with 186 and "Lefty" Willer with 183 for the 1920-1921 season. For the 1922-1923 season, Carl Maudlin Sr. led the Industrial League with a 185 average, while Homer Kilbuck led the City League with 184. Maudlin bowled in tennis shoes and threw a high scoring "back-up" ball. Kilbuck bowled in house slippers. No $100 Lind's shoes back then! Other top city league averages were Albert Cryer (182), Bill Cooper (182), "Lefty" Willer (180), Joe Fohn (179) and Bob Overton (178).
Trivia Question Answer
In the 1925 ABC Tournament, the Buffalo Elk's team scored a measly 1533. One of their bowlers shot a 129...series! He had games of 32, 34 and 63.
Did you know that prior to the start of the 1921 season, Babe Ruth set his goal at 75 home runs? Learn a little from the Babe. Set your goals high!