Bowling in Kokomo - 1935 to 1940
During these pre-war years, bowling was experiencing much growth, especially women's bowling. Many top-notch performances were achieved. In the accompanying article, you can see how Kokomo's hard work paid off when it was awarded the 1940 State Tournament.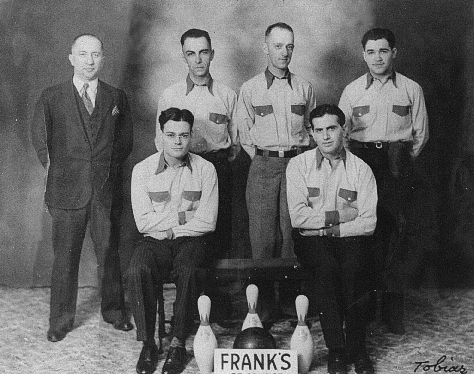 "Frank's" Team from 1937 - Went to ABC Tournament in New York City
Back Row: Frank Nerenberg (Sponsor), Kenny Beecher, Henry "Lefty" Willer, Melvin Maudlin
Front Row: George Haseltine, Julius Bauman
High Scores
This era saw a continued escalation of scoring with many new records being set.
Charlie Burk rolled a 296 game, nearly becoming Kokomo's first bowler to roll a sanctioned 300 game. The next opportunity was earned by Fred Hurstel. He rolled the first 10 strikes only to miss carrying on his eleventh ball. The newspaper article citing Hurstel's attempt stated "Tough luck kid! You'll make it some day!" Make it he would! However, Herman "Hap" Land would have the next opportunity. In November 1937, Land rolled the first nine strikes but only finished with a 264 game. On December 22, 1937, Hurstel would roll into Kokomo bowling history when he captured Kokomo's first sanctioned perfect 300 game. In the 1939 City tournament, Hurstel almost did it again when he struck with his first ten shots, only to finish with a 289 game.
A proliferation of 700 series began to appear and new series records were being set. Joe Jansen set a Kokomo league record with his 716 series. Hurstel would up the tournament record with his 721, rolled in the 1936 City Tournament singles event. George Haseltine then set the league standard when he rolled 739. The tournament record would be upped to 748 by Lefty Willer. Hurstel would increase the league record to 744.
Many other 700 series were rolled in this era. Walter Crumley rolled a 726 series in the 1937 Thanksgiving Sweepstakes Tournament. Haseltine would be the first bowler to roll two 700 series when he rolled a 704 in the City League at Evan's Bowling Academy. This meant that Haseltine also held the house record at both Kokomo bowling centers. Joe Jansen rolled a 727. Everette Quinnette rolled a 705. Kokomo bowling stalwart Don Lowry rolled a 702. "Hap" Land rolled a 715. Larry Hintz tossed a 700 series even. Frank Bell notched a 722. In addition to his two 700 series cited above, Hurstel rolled series of 702, 703, 704 and 720 in leagues. He also pounded out another 700 series, a 710, in the 1939 City Tournament. His 720 and 744 came in the same week! Talk about dominating the local bowling scene!
Team game and series records also went by the wayside. Shell American Petroleum Company rolled a 1099 game and 3085 series to set the new standard in January 1936. In April of 1937, the Aviators rolled an 1114 game. The Recreation Five captured both records when they rolled an 1120 game and 3197 series in May of 1938. They were paced by Joe Jansen's booming 727 series. Only five months later, Frank's powered an 1128 game while rolling against the Recreation Five in the City League.
These four teams consisted of many of Kokomo's finest bowlers. Shell American had a roster containing Don Richards, Ralph "Ham" Hansell, Walter Crumley, Charlie Burk and Walt McFatridge. The Aviators consisted of George Critchley, Fred Hurstel, Doc Holcombe, Russell Maudlin and Harold Schrader. The Recreation Five was composed of Dave Delo, Dan Wooldridge, Bud Fridlin, Joe Jansen and Jim DeVinney. Frank's was made up of Lefty Willer, Bobby Resener, Ed Critchley, Dr. Walter Gipe and Bobby Overton.
State Tournament Accomplishments
The "Bobby Twins" -- Bobby Resener and Bobby Overton -- led the 1937 State doubles event with their score of 1312 and eventually finished second. Resener rolled a fine 692 series to pace the team in South Bend. Kokomo lost one of its top bowlers when Overton died of a sudden heart attack in September 1939. In the 1938 State Tournament in Hammond, Joe Jansen finished third in all events with his score of 1838. Jansen would also finish seventh in singles. Don Sellers finished ninth in singles.
What may have been the most dominating performance by a squad of Kokomo bowlers occurred in March 1939 at the State Tournament in Indianapolis. Kokomo bowlers rolled into the top five places in the singles event. "Hap" Land paced the group with his 699. Floyd Pendley followed with a fine 693. Don Lowry was next with 690. Alvin Underwood and Harold Schrader rounded out the group with a 680 and 653, respectively. Kokomo also took over second through fifth places in all events. Lowry led the group with 1873. Land was next with 1823. George Critchley followed with 1821 while Joe Jansen had 1811. What a weekend that must have been!
Unfortunately, not all of these scores would hold their positions. Land would finish in second. This was another close call for Kokomo, but again, no State title. Pendley would finish fourth, Lowry sixth and Underwood ninth. It took more than Lowry's 1873 to finish in the top ten for all events.
ABC Tournament
Kokomo bowlers would continue to participate in the ABC Tournament. In 1936, the tournament was held in Indianapolis. Sixteen Kokomo teams made the short commute to participate. Unfortunately, Kokomo bowlers did not fare well. In 1937, Frank Nerenburg sponsored his "Frank's" team and they were the only Kokomo team to participate that year in New York City. In the 1939 ABC in Cleveland, Don Lowry and Stub Miller shot 1203 in doubles while George Critchley rolled 606 in singles.
National Postal Tournament
Henry "Lefty" Willer brought home a national title when he won the 1938 National Postal Tournament in Chicago. By doing so, Willer became the first Kokomo bowler to win a medal in a national tournament. Willer won the all events division with an actual score of 1864 on series of 560, 628 and 676. His 676 series in singles, propelled him to a 709 handicap score and second place. Nick Delvecchio and Harry Leffert finished fifth in doubles. The local postal team finished in the money forcing local postmaster William Workman to follow through with his promise to hold a banquet for the team.
Top Averages
Top averages for the 1938/39 season were Fred Hurstel 200 (actually 199.68), Lefty Willer (195), Don Lowry (193), Harold Schrader (192), Walt McFatridge (192), Don Sellers (191), Bill Samuels (190), Bobby Overton (189) and Bobby Resener (187). This made Hurstel the first Kokomo bowler to average 200. He beat out Willer's record of 199.36.
Evan's Bowling Academy Opens
"Jerry" Evans issued an open letter to Kokomo's bowlers in the Kokomo Tribune on April 23, 1937. In it, he identified what it would take to open a new bowling facility with lanes like those recently used in the ABC Tournament in Indianapolis. In order to determine the level of community and bowler support, Evans offered a 50 game practice ticket for $10. Evans looked to sell 400 of the tickets which would be an indication that at least 400 bowlers were interested in a new first-rate bowling academy.
Evans must have found the support he needed for he opened the Evans' Bowling Academy on September 9, 1937. The alleys were located at 212 East Sycamore where Button Dodge is located today. This provided Kokomo bowlers a state-of-the-art eight-lane bowling center and helped fuel bowlings continued growth in Kokomo.
Less than a month after opening, bowling great Andy Varipapa conducted an exhibition and bowled against four of Kokomo's top bowlers. The popular trick shot artist defeated all four Kokomo aces in two game matches. The victims of Varipapa's 228 average performance were Fred Hurstel, Lefty Willer, Jim DeVinney and Bobby Overton.
The success of Evans Bowling Academy led to a four-lane expansion in June of 1938. This increased the number of bowling lanes in Kokomo to 24 for the first time. In the 1939/40 season, Kokomo had 26 men's leagues and 4 women's leagues. Bowling was growing at a rapid rate!
Women's Bowling
Women's bowling continued to grow rapidly and new records were set.
Kokomo women bowlers had an opportunity of a lifetime following the completion of the ABC tournament in Indianapolis in 1936. It was customary for the host city to have a women's tournament before the lanes were dismanteled. In 1936, invitations went out to the entire state of Indiana. Eighteen Kokomo women bowlers trekked to Indianapolis to participate. Nell Larue let the Kokomo contingent with a handicap score of 557 and likely picked up some nice prize money.
The Kokomo women also began making their presence known in the State Tournament. Alice Bauer shot a 509 series and finished in third place in the 1937 State Tournament in Indianapolis. The Frank's team finished in ninth place.
The Kokomo women participated in their first Women's International Bowling Tournament in 1938. The site was Cincinnati. Jerry Evans sponsored the Evans' 20th Century Academy Alleys team. Top Kokomo women bowlers Nell Larue, Lu Deal, Alice Bauer, Gwen Winch and Mildred Stratford formed the team. Stratford rolled a 234 game, 586 series and 1577 for all events for Kokomo's top scores.
The women held their first full blown city tournament with singles, doubles and team events in 1939.
Records continued to climb. Mildred Stratford shot a 240 game to set a new record. In October 1937, Pearl Cornthwaite rolled a 245 game and 582 series to set new records. In a special challenge match against Lottie Perkins and four men, Alice Bauer rolled a 245 game and 646 series to lead her team to victory. The team shot a 965 game and 2810 series. Other team members were Gwen Winch, Mildred Stratford, Pearl Cornthwaite and Lu Deal. They became the first women bowlers whose photographs appeared in the Kokomo Tribune. A brain hemorrhage would take the life of 36 year old Pearl Cornthwaite in March 1938. She was the Kokomo Women's Bowling Association secretary at the time of her death.
Gwen Winch shot a 595 series in South Bend to finish in third place in singles. Winch also finished fourth in all events with her score of 1600.
The women began to get involved in the State Association. Winch was elected State Sergeant-at-Arms in 1939 and State Treasurer in 1940.