Bowling in Kokomo - 1940 to 1945
New records continued to be set. Scoring continued to rise with many high games and 700 series. This era would also see Kokomo win its first State Tournament Championship. However, this era also brought us World War II. For a look at how that impacted the bowling locally and throughout the country, see the accompanying article.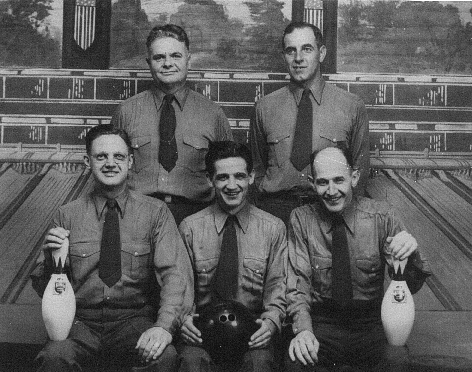 Kokomo Team that went to the 1941 ABC Tournament in St. Paul, Minnesota - (Photo provided by Ron Quinnette)
Back Row: Don Baker, Hack Thompson
Front Row: Bud Fridlin, Everette Quinnette, Al Brown
High Games
Games over 270 were becoming more abundant. This meant that more bowlers were getting the opportunity to roll that prestigious perfect game.
Some of the higher games posted were a 278 and 279 by Fred Hurstel and a 279 by "Hap" Land. Cecil Symons pounded out a 287 for the highest game in the 1944/45 season. Walt McFatridge rolled a 288 game in the City Tournament in 1942. Hurstel also rolled a 290 game as did Ralph Myers and Mr. Dezler.
Practice does make perfect! Johnny Myers proved the point when he rolled a 300 game in practice at Evans Bowling Academy. Danville, Illinois bowler Ray Irvine stroked a 299 game in an inter-city team challenge match against Kokomo. Former Kokomo and Russiaville native, Dallas Snodgrass, notched a sanctioned 300 game in Dayton, Ohio where he resided at the time.
On April 17, 1941, Harold Kettlehut became the second bowler to roll a sanctioned 300 game in Kokomo. Kettlehut was a power bowler who had several big games before. Rolling in the City League at Evans Bowling Academy, Kettlehut, chalked up 12 strikes to claim a $25 prize offered by Jerry Evans for the first perfect game in league competition. Kettlehut's Kokomo Tribune teammate, Don Lowry, started the game with the first seven strikes but could not keep pace with Kettlehut. Kokomo would only see Kettlehut bowl for several years before he moved back to Michigan.
High Series
The number of 700 series continued to escalate. Ronnie Wray got an early Christmas present when he set a new Kokomo series record. On December 23, 1940, Wray powered out games of 267, 257 and 228. The feat was accomplished in the Variety League at the Evans Academy.
Many other bowlers also shot 700 series. Fred Hurstel continued to lead the 700 barrage! He rolled series of 726, 723, 718, 713 and 706 in league play. He shot another 726 in a match against Logansport. Don Lowry shot two series of 704, one of which came in the City Tournament. Don Sellers cracked series of 722 and 701. Three-time Indiana State Amateur golf champion Bobby Resener hit for series of 712 and 711. Jim DeVinney rounded out the multiple-700 shooters with his 718 and 704. Don Baker almost broke the city record when he pounded out a 747 in the City Tournament in 1943. Eddie Schupp cranked out a 721. "Brownie" Hall rolled 714. Joe Jansen shot a 712. Ralph Myers had a 705. McFatridge's 288 game propelled him to a 704 series. Finally, Mr. Harrison had a 700 series even.
Schupp was a fine bowler from Chicago that had just moved to Kokomo and would stay for a number of years. In 1925, Schupp won the ABC Doubles Title with a score of 1318. Schupp's 702 series combined with partner Ed Karich's 616 were good enough to lead the nation.
State Tournament Accomplishments
Kokomo continued to stay active in the State Association and participate in the State Tournament. In November of 1944, J. Paul Jones was elected vice-president of the Indiana Bowling Association. This continued Kokomo's active involvement in state bowling activities.
In the 1941 State Tournament in Fort Wayne, Hurstel shot 1863 in all events to put himself in sixth place at the time. It is not known whether he stayed in the top ten. In 1943, he shot 1817 which was good for 22nd place. His 650 singles score put him in 21st place. In the same tournament, Don Baker and Fred Swaney finished 16th in doubles.
In the Knights of Columbus State Tournament in 1945, Kokomo took home fourth place. The tournament, held in Terre Haute, was one of the few held in the state that year due to the war. Kokomo's contingent to the 91 team scratch event consisted of Mark Zimmerer, Hurstel, Bill Powell, Bill Ashburn and Jansen.
Kokomo also had some top five finishes in the 1944 State Legion Tournament.
After many near misses, Kokomo would finally win their first men's Indiana State Championship. The man to accomplish the feat was Don Sellers. Sellers was the active Howard County recorder at the time. He was so busy that he had to quit bowling temporarily. Maudlin Restaurant manager, Carl Maudlin, coaxed Sellers out of his temporary retirement to roll with the team that he sponsored. Other team members were "Frosty" Maudlin, Melvin Maudlin, Pete Thran and Mr. Kessler.
The 1944 State Tournament was hosted by Muncie. What makes Sellers' feat more amazing is that he had only rolled two games during the entire season. He used his experience and skill to pound out scores of 201, 266 and 244 for a 711 series and the lead. His 15 pin margin would not succumb to the challengers the next and final weekend. So after many close calls, Kokomo had their first State Champion in Don Sellers!
Other Records
The Recreation Five team set a City Tournament record with their 3165 Team Actual score in the 1941 tournament. So far, that team is responsible for three KBA Hall-of-Famers. Sellers, Doc Sloan and Hurstel rolled in the one, two and three slots. "Stub" Miller was in the fourth position and Resener anchored the team. Each bowler rolled over 600 with Hurstel pacing the group with is 662. Their 3165 score was out of reach for City Tournament teams for 48 years.
Fred Hurstel tied the record for most consecutive 600 series in the same league with seven. It was 1942 and Hurstel was trying to break Resener's record of seven straight 600 series set in 1931. Hurstel's attempt fell short when he could not roll enough strikes and only scored a 541.
Top Averages
Kettlehut averaged a whopping 196 the season he shot his 300 game. Ralph Myers led the Cross-Town League in 1940/41 with his 192 average. Trailing Myers were Frank Stonequist with 189 and Gib Morrow with 188. At the halfway point in the 1941/42 season, Hurstel was averaging 200. The City League first half winners, Jefferson National Life, had some big averages. Hack Thompson stood at 191, Ronnie Wray at 185, Everette Quinnette had 186, Don Baker rolled along at 187 and Bud Fridlin was stroking at a 189 pace. Barney Armfield had a 192 average in the 1941/42 Cross-Town League. That same year, Joe Jansen led the Stellite League with his 187 average. J. Paul Jones led the Uptown league with 189. In the 1942/43 season, "Hap" Land led with 192 trailed closely by Schupp at 190 and "Lefty" Willer at 189. In the 1943/44 season, Luther Dishon squeaked past Hurstel 189 to 186. In the 1944/45 Cross-Town League, Elmer Cook paced the league with an average of 194. Willer, Cecil Symons and Hurstel were also over 190. Jim DeVinney led the Classic League for the 1944/45 season with his 190 average.
Women's Bowling
Women's bowling continued to grow and gain recognition across the state in the early 1940's.
Following on the heels of the men, the KWBA hosted their first state tournament in 1941. A record field of 246 teams converged on the Evans Bowling Academy for the competition. What a tournament it was! Kokomo's women would get their first state championship and beat the men by three years.
The opening day saw new state records set. One of these was by the Kokomo doubles of Thelma Thompson and Gwen Winch. Their actual score of 1163 broke the state record set the prior year. Kokomo's Elsie Pettay took the early lead in singles with her 544 series.
Thompson and Winch's opening day lead endured and they ran away with the doubles title by a whopping margin of 84 pins! Kokomo picked up a couple more titles in the lower divisions. In the Class "C" doubles, L. Dux from Indianapolis teamed with Kokomo's Opal Edwards to win. Their 982 score was 143 pins better than second place!
Opal Edwards would also win the Class "C" all events with a score of 1362.
Kokomo's powerful Dietzen's Corntoppers team finished in eighth place with their score of 2441.
New women's records were recorded in local leagues. Lu Deal would shoot the first known women's league 600 series with her 632 in March of 1942. Elsie Pettay fired a record 266 game in February of 1944.