Bowling in Kokomo - 1945 to 1950
This time period saw the relocation and remodeling of bowling alleys. This post-war era also saw tremendous growth in the number of bowlers and participation in the City Tournament.
Like the prior five year period, new records continued to be set and even more bowlers rolled high games and 700 series.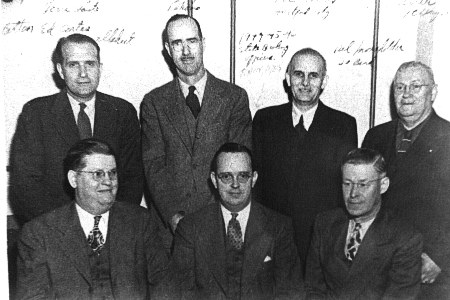 Kokomo was still very active in the State Association. Pictured are the 1945-46 Officers of the Indiana Bowling Association (photo provided by Tom Tobin)
Back Row: Gene Krantz (Terre Haute - 3rd VP), J. Paul Jones (Kokomo - 4th VP), Dr. Frank Peters (Hartford City - 5th VP), R. J. Stetter (Fort Wayne - 6th VP)
Front Row: Ed Cortas (Elkhart - 2nd VP), Tom Tobin (Marion - President), Del Mossholder (South Bend - Secretary/Treasurer)
Missing from the picture was 1st VP Dr. E. E. Watts from Gary who was in the armed services.
High Games
Games over 270 were prolific. From the following scores, it was evident that many more bowlers were getting the opportunity for that elusive perfect game. However, no sanctioned 300 game was recorded. Jack Harbin did notch one in practice in January 1946.
Max Allison had the first nine strikes but only finished with a 276 game for low honors in this article. Walt McFatridge turned in a 277 game. Fred Hurstel and Hack Thompson each rolled 278 games while rolling for the "Old Folks" team in 1949. Larry Hubert also shot a 278 game. The following people each racked up a 279 game.
Walt McFatridge Elmer Cook Vern Clawson Guy Swing
Ray Younce "Hap" Land Dave Delo Joe Jansen
Don Shockey Eddie Jacoutot Don Baker
Gilbert Werking worked hard to post his 280 game. Bud Fridlin and Velice "Peck" Bratton lit it up for 289 games. Jim DeVinney got off to a "slow" start but still finished with a 290 game. Butch Shallenberger led the Classic League for the 1948/49 season with his 295 game. High game honors for the period went to Bob Bergman who cranked out a 296 game.
Of these games, Clawson's was the most unusual. He left a solid 10-pin in the first frame. After missing his spare, he clawed back with eleven strikes in a row for his 279 game.
High Series
Many bowlers notched their first 700 series. There were about seven 700 series each year. In today's higher scoring ear, we get that many each week!
Don Lowry was tops for the period with his record breaking 759 series rolled in October 1947. Below is a summary of all the 700 shooters.
Don Lowry -- 759, 733, 707, 702, 700
Fred Hurstel -- 749, 717, 701
Carl Foust -- 746, 708, 704
Larry Hubert -- 742
Hack Thompson -- 739, 706
Carl Daulton -- 735
Elmer Cook -- 733, 701
Clyde Myer -- 718
Jack Currens -- 718
Harold "Shorty" Hall -- 717, 717
Cloyd Long -- 715
Cecil Symons -- 715
Walt McFatridge -- 714 in 1948 City Tournament, 710
Jim DeVinney -- 714
Haven Peterson -- 713
Luther Dishon -- 713
Ray Newlon -- 712
Tommy Oaks -- 712
Tom Minor -- 712
D. Snyder -- 710
Velice "Peck" Bratton -- 709, 706, 705
Art Baer -- 708
Earl Brown -- 708
John LaDow -- 707
Hubert's 742 was close to Ronnie Wray's record of 753 at the time. Hubert would eventually eclipse Lowry's mark to set his own record.
State Tournament Accomplishments
Kokomo continued to have some fine performances in the State Tournament, although not as many as prior years. The growth in bowling in other towns made it more difficult to reach the top.
Charlie Branch and Keith Pettay shot 1219 to put themselves in 5th place in doubles at the 1946 State Tournament in Hammond. Branch is one of this years inductees into the Kokomo Bowling Association Hall of Fame. The Kokomo duo finished in 12th place.
Hi-Grade Cleaners moved into 3rd place in the 1950 State Tournament with their 2903 score. Team members included Cook, Pickering, Bratton, Daulton and Tom Lear. Lear finished with over 1800 in all events. Cloyd Long had the high game for the 1950 State Tournament when he shot a 277.
ABC Tournament Participation
Kokomo did not send any teams to the ABC for three years during the war. In 1946 they sent three teams to Buffalo.
In 1948, seven teams traveled to Detroit to compete in the national tournament. That year, McFatridge fired a 648 in the doubles event. Myer and Long combined for a 1182 in doubles. Bill Powell contributed a 608 in the singles event. He was closely followed by Fridlin's 607, Bratton's 605 and Francis Fisher's 600. The powerful Leonard's Jewelers shot 2796. Long totaled 1757 for all events. Close behind was Francis Fisher with 1746.
Other Records
Barney's Sandwich Shop, captained by Barney Pickering, set a new team series standard when they shot a booming 3220 series in December 1948. Contributing to that tally were Cook (697), Bratton (691), Pickering (676), Symons (590) and Ben Newburn (566).
Less than one year later, in November 1949, Lord's Jewelers would eclipse Barney's mark with a total of 3259. The Lord's team was led by Long (715), Myer (660), Lowry (651), John Cox (639) and Fisher (594).
Between 1945 and 1949, Cook was the only bowler to roll three 600 series in a week. He not only accomplished the feat once, he did it several times!
Top Averages
Eddie Schupp set a new Kokomo average record when he rang up his 202.6 average in the City League in the 1946/47 season. Other high averages during this era included Lowry (201), Land (200), Bratton (198), Schupp again (198), Long (191) and Cook (191). Cook also led the Classic League in 1948/49 with his 189.79 average.
Winning the 1946/47 City League championship was no accident for the Lawson Jewelry team. They had a 980.2 team average. There are probably only a handful of Kokomo teams today carrying that kind of average. Lawson's was led by Lowry's 201.63 and closely followed by Hurstel (199), Long (195), Fisher (193) and Myer (191). Their alternate, Don Sellers, had a mere 185 average!
Miscellaneous Trivia
Beginning with the 1946 season, there were two scratch leagues again as the City League was revived after a wartime death. Lowry was league president and Harbin was secretary.
Pinboys were getting $5 to set for a pair of alleys for two shifts of leagues.
Jack Currens took an early lead in the Westside Bowling Classic in Indianapolis with his eight game score of 1623.
A Kokomo team consisting of Cox, Hubert, Currens, Bratton and Hurstel won the Marion team tournament in 1947.
Hurstel led the Capital City Tournament in Indianapolis with two weeks left when he shot a 721 series.
The 1947/48 City Tournament had a whopping 123 team entries, up over 50 teams from the prior year.
In 1948, Lowry won a six-game tournament in Muncie.
In November 1948, the Leonard's Jewelry team was beaten in an exhibition by the Rodebeck Motion Picture team led by a young Dick Weber.
Fisher beat Cook 1093 to 1073 in the six-game finals of the revived City Individual Championship.
Ralph Maish and Bill Collins won the State Legion handicap doubles championship with their score of 1368.
A team consisting of Clarence Bell, Max Pross, Paul J. Mills, William Cross and Austin Baker won the 1949 National Shrine Club tournament in Indianapolis with a score of 3156.
No alcohol was allowed in the Evans' Bowling Academy.
The Kokomo Bowling Association consisted of 20 leagues and 195 teams for the 1946/47 season. The next year there were 22 leagues with 194 teams. The year after that, there were 28 men's leagues with about 210 teams.
Bowling Alley Movement and Modernization
The Recreation Alleys moved to North Main Street at the beginning of the 1945/46 season. Manager Keith Pettay was very busy leading up to the October 1, 1945, opening at the site of the old Motor Inn. The next year they added a lunch counter and soda fountain. Two years later, to kick off the 1948/49 season, they added telefoul equipment. Prior to that time, human foul judges were required for league participation.
At the end of the 1949/50 season, an announcement was made that Play Bowl would open in the fall. Play Bowl would bring more modernization to the game and increase the number of lanes to sustain the growth of local bowling.
Women's Bowling in Kokomo -- 1945 to 1950
Women's bowling continued to grow with the ladies rolling in seven leagues for the 1948/49 season.
For the 1945/46 season, a six-team traveling league was organized. In addition to Kokomo, teams from Fort Wayne, Wabash, Marion, Peru and Logansport participated. The Kokomo team consisted of Myrl Knote, Peg Hawkins, Betty Morr, Martha Bone and Olive Hartung.
In the 1946 Women's State Tournament in Gary, Wanda Klingerman captured the Class C all events championship. D. Myers finished 2nd in class C singles.
In 1947, Peg Hawkins set a State Tournament record with her 289 game. It was the highest game ever recorded in the 22 year history of the event. Hawkins' game propelled her doubles team and partner Martha Bone to the lead in Class A doubles. They would eventually finish in 3rd place. Hawkins had only picked up bowling four years earlier. She was a local standout in softball and basketball also.
In the 1948 State Tournament, Mrs. Joy Loop won the Class D singles championship.
In November 1949, a 19 year old substitute bowler broke the all time Kokomo women's series record. Rosie Currens, a five year bowling veteran, tallied games of 217, 203 and 226 to set the new series standard at 646. From the scores posted in the paper, it was apparent that she beat husband Jack that week by over 100 pins.
Currens would continue to leave her mark on the local bowling scene for many years and would become one of the KWBA Hall of Fame Charter Members as would Peg Hawkins.