Bowling in Kokomo - 1950 to 1955
This time period saw the opening of a new bowling center. Kokomo also hosted its second State Tournament and Fort Wayne hosted the ABC Tournament.
Like the prior five year period, new records continued to be set and even more bowlers rolled high games and 700 series.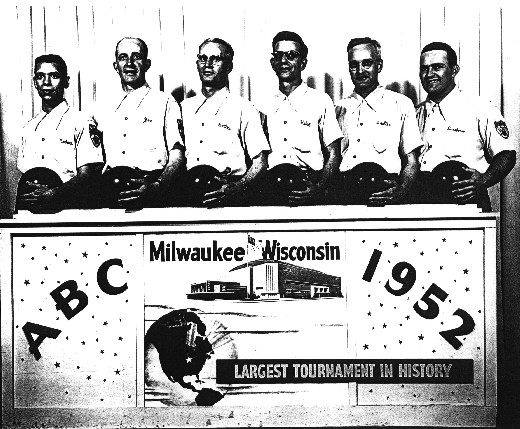 Kokomo Team rolling in the 1952 ABC Tournament in Milwaukee, Wisconsin (Photo provided by Ralph Densborn)
(L-R): Ben Newburn, John Cox, Velice "Peck" Bratton, Larry Hubert, Carl Daulton, Ralph Densborn
Kokomo Team rolling at the 1955 ABC Tournament in Fort Wayne (Photo provided by Ralph Densborn)
(L-R): Ben Newburn, Jack Currens, Larry Hubert, Ralph Densborn, Norm Allen
High Games
Games of 270 or higher decreased from the prior time period but still occurred at the rate of about two per year. From the following scores, it was evident that many more bowlers were getting the opportunity for that elusive perfect game. However, no sanctioned 300 game was recorded by a Kokomo bowler. Youth bowler Jesse Paul did roll a 300 game and 710 series in practice..
Larry Hubert humbled the pins for a 278 game. O. D. Snyder racked up two 279 games. Ed Pulver pulverized the pins for his first 10 balls to tally a 289 game. Everett Newburn burned them up, after getting off to a slow start, and finished with a 290 game. Paul Ratcliff also notched a 290 game. Carl Peterson almost rolled the first 300 game in City Tournament competition but fell three pins short with his 297 game. Dewey Meyers got a little closer to perfection with his 298 game rolled in the Delco League. Finally, two bowlers fell a single stick shy of rolling Kokomo's third perfect game.
In November 1951, Bob Hobson, a sergeant with the police department, threw the first eleven balls perfectly in the pocket to set up his date with history. The 160 average Cross Town League bowler threw the 12th ball "Brooklyn" only to leave a stubborn 5-pin.
About three years later in October 1954, Dick Adams would get his chance at perfection. Adams, rolling at the Recreation Alleys for the Coon's Cubs, left a solid 10-pin on his 12th shot.
High Series
Many bowlers notched their first 700 series. There were about five 700 series each year which was a couple less than the prior five-year period.
On Tuesday, October 16, 1951, Larry Hubert eclipsed Don Lowry's series record by smashing out a 763 series. Hubert, rolling for Cox's Army in the Classic League at the Recreation Alleys, stroked games of 278, 219 and 266. Fred Hurstel held the all-time Kokomo mark with 803 rolled in practice. Below is a summary of all the 700 shooters.
Larry Hubert -- 763, 703
Jim Huth -- 744, 718, 709
"Peck" Bratton -- 729, 705
Elmer Cook -- 713, 710, 709, 708, 707
Jim DeVinney -- 713
Junior Abresch -- 712
Fred Hurstel -- 711, 708
Marshall Abersoll -- 707
O. D. Snyder -- 706
Lynn Holtgren -- 706
Jim Davies -- 705
Cloyd Long -- 704
Waldo Finley -- 702
Gib Morrow -- 700
Huth's 718 series was almost 100 pins higher than his previous best. About two months later, he proved it was no accident when he tossed his 744.
Kokomo bowlers also rolled the ball well away from their home lanes. Bill Cross shot a 714 in the Cincinnati Times Star Tournament to win first place. Jack Rice shot a 726 series at the Fort Wayne Everett Scott Sweepstakes.
State Tournament Accomplishments
Peck Bratton almost captured the State all events crown in 1951. Bratton fired 685 in the team event, 652 in doubles, but only 508 in singles. His 1845 total finished in sixth place only 20 pins behind the winner. I am sure he would have liked to take back that 122 game he shot in singles! Brown's Standard Service finished tenth in the team event.
Kokomo was in the spotlight again when it hosted the 1954 State Tournament. The team event was held at Play Bowl while the minor events were held at the Recreation Alleys. Two major changes were made by the Indiana Bowling Association that affected this tournament. First, they created three classes for the team event based on team average. Next they allowed make-up teams to enter. This allowed teams to fill in a team roster with other sanctioned bowlers not regularly on their team. Serving on the Tournament Committee chaired by Bud Fridlin were Fred Swaney, Max Pfeiffer, Vern Vaught, Bob Pfleger, Bill Ashburn, John Cox, Everette Quinnette and Don Lowry.
The highlight of the tournament was when South Bend bowler Frank Vargo rolled a perfect 300 game at the Recreation Alleys. It was only the second 300 game ever in the State Tournament.
Some Kokomo bowlers also stood out in the first week of the event. Cook and Hurstel moved into third place in the doubles event with their 1205 score. Norm Allen's 686 series in singles moved him into second place. Close behind was Cook with his 662.
Norm Allen's 1912 all events total finished in third place. The Courtright Motors team finished fourth with a score of 2878. Fifth place went to the Buckner TV team with 2870. Play Bowl #1 finished second in Class C. Norm Allen's 686 singles score just missed finishing in the top five.
Kokomo also hosted the State Moose Tournament in 1951. The large tournament had 466 teams entered. The Moose Antlers finished in second place in the team handicap division. Francis Fisher and Lowry finished in third place for doubles actual with 1233. Normal Pyke from Tipton won the singles handicap while Ralph Densborn finished second with his 756 handicap score. Pyke won the singles actual with his 711. Densborn finished fourth with his 677. Fisher finished ninth for all events actual with a score of 1762.
Kokomo hosted the State Elk's Tournament in 1955. Standard Packing won the team actual title with their score of 2937. Fred Hurstel captured the all events handicap crown with his score of 1869.
ABC Tournament Participation
Brown's Standard Service shot a fine 2794 series in the 1951 ABC Tournament in Saint Paul. Their powerful lineup consisted of Lowry, Fisher, Cook, Doc Sloan and Cecil Symons. Cook led the group with his 616 series. Harry Davis, the initial Kokomo Bowling Association secretary, also rolled in the 1951 event.
In the 1952 ABC Tournament hosted by Milwaukee, Ed Abresch won 25 silver dollars for shooting the high squad game.
Fort Wayne hosted the 1955 ABC Tournament. This provided the opportunity for more local bowlers to participate in the prestigious event.
Kokomo sent 38 teams to the ABC, its largest squad ever. Of these teams, 30 competed in the Booster Division based on team average. The locals discovered what bowlers continue to experience today. Scoring is not easy at the ABC! Accuracy is rewarded and you pay for poorly executed shots.
Checker Cab recorded the best Kokomo team score in the Open Division with their 2695. They were paced by Floyd Crumley's 576 series. Tommy Lear helped his Kiley Insurance team with his 603 series but they only finished with 2648. Fred Hurstel paced the Standard Packing team to a 2680 score in the Booster Division with his 618 series.
Other Records
Other than Hubert's new series record, no new individual or team records were set.
Top Averages
Averages were down significantly as compared to the prior five year period. Huth led the Victory League with an average of 186. Lowry led the City League with his 185 average. Cook led the Cross Town League with his 192 average.
Play Bowl Opens
Play Bowl opened in September 1950. Owned by Don Lowry, A. B. Watkins and Clyde Myer, it was Kokomo's most modern bowling facility. The 12 lane center featured semi-automatic pin spotters, automatic ball lift and electric tel-e-foul equipment. Pinboys fought to work there since it made their job much less physical.
Two-time National Bowler of the Year Buddy Bomar came to Play Bowl as part of their grand opening. Many of the top local bowlers had the opportunity to match up against Bomar. Lowry rolled five games against Bomar. After tying the first game, Lowry thumped Bomar the next four. Some welcome!! Cook also defeated Bomar, as did Fisher. Bomar was not through, however. He then beat Hurstel, Charley Branch, Bratton and Ratcliff. Bomar promised a return visit to redeem himself!
Lowry was a force behind junior bowling. He held junior bowling clinics and junior leagues. He also held bowling instructional classes for the women to spur growth in women's bowling. Bowling was now becoming a family recreation and sport.
Play Bowl held another exhibition in 1951 bringing the great Andy Varipapa came to town. The superstar bowler and trick shot artist would also roll against some local competition. For that opportunity, local bowlers had to qualify by rolling three games. Ralph Densborn must have been real hungry for the competition. He rolled a 708 series to get his opportunity to roll against Varipapa.
In the actual match, Densborn started with the first six strikes. Varipapa quipped, "Son, I am the one who is supposed to be doing the exhibition here!" or something along those lines. Densborn continued to bowl well but Varipapa came back to shoot in the 250's to beat Densborn by about 10 pins.
Women's Bowling in Kokomo -- 1950 to 1955
In the 1951 Indy Stars 10 Pin Classic, Betty Ewing finished second in the handicap division.
The Paul J. Mills team of the Women's Recreation League set a new team game record with their 967 game.
One "Chick" dominated the women's bowling scene in the 1953/54 season. Lucille Chick tied Rosie Currens' series record of 646. She also threw at least eight other 600 series that season to finish with a tremendous 191 average. This record would hold up for many years. In 1955, Chick shot the first ever 600 series for the City Tournament singles event. Chick fired a 278 game and finished with a 635 series. She captured the singles actual and handicap as well as the actual all events crowns. Her all events total of 1685 was also a new record.
Dominating the City Tournament and the local bowling scene during this time period were Olive Hartung, Elsie Pettay, Betty "Tommy" Thompson, Virginia Scott, Peg Hawkins, Lucille Chick, Zelpha Turner, Bess Edwards, Opal Edwards, Rosie Currens, Kay Kelly, Duggie Englert McCoy, Myrl Knote, Mary Halstead, Wilma Moore Long and Belle Burton.
Thompson and Pettay racked up about 10 City Tournament championships each during these 10 years. Hawkins was not far behind.