Bowling in Kokomo - 1955 to 1960
This article covers the Kokomo bowling scene from 1955 through the completion of the 1959/60 season. New records continued to be set. The PBA was formed. Star bowlers came to town to perform in exhibition matches. And Don Lowry began to do a weekly bowling column in the Kokomo Tribune.
1957 ABC Team (Picture provided by Ralph Densborn)
(L-R): Norm Allen, Jack Currens, Larry Hubert, Ed Pulver, Ralph Densborn
Photo of Kokomo Team rolling in the 1958 State Moose Tournament (Photo provided by Jim DeWitt)
(L-R): Peck Bratton, Dewey Meyers, Bunk DeWitt, Barney Pickering, John Cox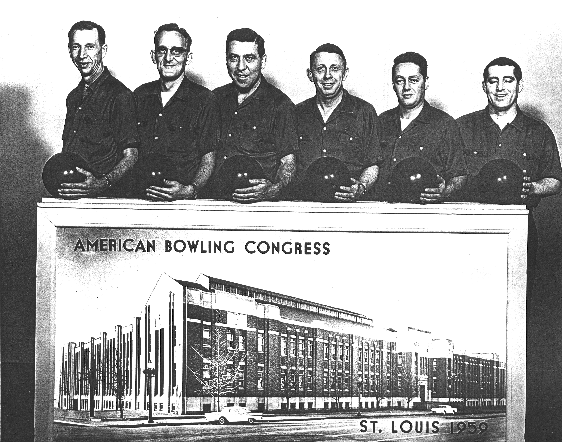 1959 ABC Tournament Team Picture (provided by Tom Dinwiddie)
(L-R): Francis Fisher, Bill Thompson, Joe Schembre, Don Lowry, Wayne Kitts, Tom Dinwiddie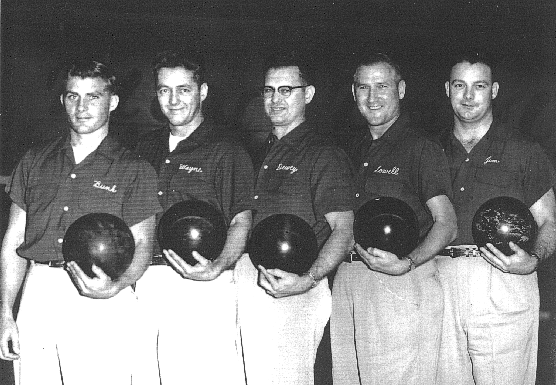 Picture provided by Jim DeWitt
(L-R): "Bunk" DeWitt, Wayne Kitts, Dewey Meyers, Lowell Grant, Jim Bess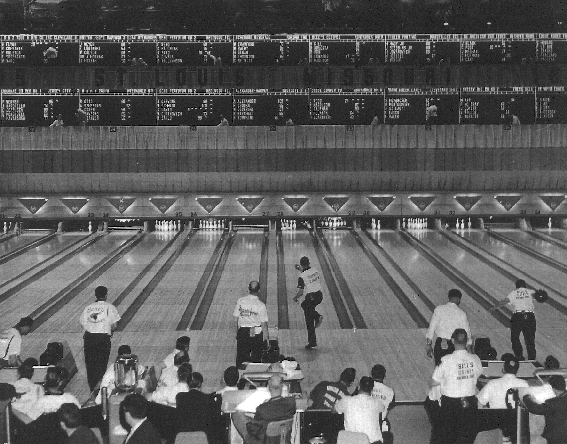 Photo of Bunk DeWitt rolling in the 1959 ABC Tournament in St. Louis (photo provided by Jim DeWitt)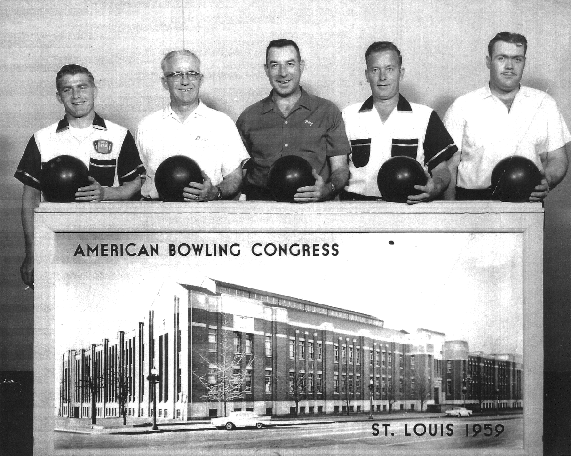 Team Picture from the 1959 ABC Tournament (Provided by Jim DeWitt)
(L-R): Bunk DeWitt, Doc Sloan, Ray Raemy, Bill Crawford, Tex Thornton
GM Tournament Team Picture (Provided by Tom Dinwiddie) - 1960 Champion Team Picture
(L-R): Doyle DeWitt, Cloyd Long, Wes DeVee, Tom Dinwiddie, Mike Wikel
High Games
There were about as many games over 270 as there were in the prior five year period.
Rex Swing and Everette Quinnette tossed 276 games. Fred Krott cracked a 277 game. Veteran Fred Hurstel was still in fine form when he stroked a 279 game. George Winner sure felt like one when he rolled his 279 game. Bill Cross, John Arrington and Bob Coghill also notched 279 games. Harold Coy approached perfection when he rolled the first 10 strikes for a fine 286 game. On another occasion he had the first nine strikes for a 265 game. Jim Rutherford could not quite get the eleventh one to fall as he rolled a 287 game. Wayne Kitts also started with the first ten strikes for his 288 game. A stubborn 7-pin kept him from the eleventh strike. Dan Dunlap shot a fine 290 game.
Loren Hundley just missed perfection when he rolled a 298 game in November, 1957. Hundley rolled with the Moose Antlers team in the City Minor League.
High Series
Many bowlers notched their first 700 series despite a slight decrease in these prestigious scores.
In March, 1957, Mike Wikel eclipsed Larry Hubert's series record by smashing out a 768 series. Wikel, rolling in the Delco Radio League at the Play Bowl, stroked games of 264, 248 and 256. Below is a summary of all the 700 shooters.
Mike Wikel -- 768
Everette Quinnette -- 748
Eddie Parks - 724
Elmer Cook - 717
John Cox -- 717, 703
Wayne Kitts -- 716
Fred Hurstel -- 710
Francis Fisher -- 709
Tom Dinwiddie -- 708
George McCarter -- 705
George Pickering -- 702
Floyd Wooley -- 702
George Eckert -- 701
Norm Allen -- 700
State Tournament Accomplishments
Tipton's Bob Crull won the Indiana State tournament singles event in 1959 when he blitzed the pins for a 736 series.
1957 Moose State Tournament was held in Kokomo and many locals turned in fine performances. The doubles teams of Abresch/Rich and DeWitt/Crawford finished second and fourth in doubles actual. The teams of Abresch/Rich and Mills/Hubert finished 1-2 in doubles handicap. Fred Hurstel finished second in all events actual with his 1841 and threw in a 278 along the way. The Stites Cleaners team claimed the actual title. Lauderette finished in fourth. Delco Radio Department 511 took the team handicap crown with Stites Cleaners right behind.
City Tournament
It was in this time period that the City Tournament reached peak participation levels. The 1957 tournament had 180 teams entered along with 546 singles entries.
Among the names of bowlers capturing city titles were Wayne Kitts, Don Lowry, Cloyd Long, "Tex" Thornton, Harry "Doc" Sloan, Lowell Grant, Francis Fisher, Ray Cameron, Norm Allen, Bill Crawford and Tom Dinwiddie.
City Match Play Tournament
Sixteen of Kokomo's best bowlers rolled a 24 game match to decide who would go to the 1957 State Match Game Tournament. The match was split evenly between Sycamore Lanes and Play Bowl. Bill Crawford averaged over 195 to edge out Fred Hurstel and win the right to represent Kokomo in the State finals.
In 1958, the event consisted of 30 games using the same two bowling centers. Clifton "Bunk" DeWitt averaged over 204 to win. Chuck "Ears" Lucas averaged 197 and finished 2nd out of 16 bowlers. Crawford, Don Lowry and Harry "Doc" Sloan rounded out the top five. DeWitt finished 4th in the state finals to earn a trip to the BPAA All Stars finals in Buffalo. There DeWitt averaged 183 for 24 games which unfortunately did not survive the opening round of qualifying.
Lucas would improve his position in 1959 by squeaking by Carl Babb to win. Both bowlers averaged over 202. Babb actually knocked down more pins, but due to the Peterson Point system being used, Lucas won. Under this system, bonus pins are awarded for match game victories.
Other Tournaments
The New Years Holiday Doubles Tournament tradition continued. Winners included Kitts - Ed Pulver, Jim Huth Sr. - Jim Huth Jr., Kitts - Wes DeVee and John Grayson - Don Helton.
Ernie Loveless rolled a 718 handicap (662 actual) to take the lead in the National Management Association tournament in Fort Wayne.
Other Records
Other than Wikel's new series record, no new individual or team records were set.
Bowling "Marathon"
In preparation for a 20 game singles tournament the following month, three local bowlers participated in a 40 game "marathon" of their own. Lowell Grant, Ed Pulver and Pat Guge bowled 40 games in about 9 1/2 hours. Grant edged Pulver by only seven pins, each averaging a little over 180.
Play Bowl Still State of the Art
Play Bowl became the first bowling center in town to install AMF automatic pinspotting machines. The November, 1955 upgrade provided for faster bowling and more accurate pin placement. Play Bowl was about the fourth center in Indiana to install the "Perfect Pinboy".
Prior to the start of the 1956/57 season, Play Bowl expanded from 12 to 24 lanes making it the largest bowling center in town.
Evans Bowling Academy became Sycamore Lanes in 1954 and were managed by John Cox during the late 1950's. The Recreation Alleys became the Bowling Center in 1957. The Bowling Center was managed by Keith Pettay and later by Bud Fridlin.
Air conditioning was added to Sycamore Lanes in April, 1958.
Fallstaff Exhibition
The Fallstaff's, including Buzz Fazio, Steve Nagy and Billy Welu came to Play Bowl for an exhibition in January, 1958. Over 2500 enthusiastic bowling fans would pack the Play Bowl to see the games best bowlers perform. They soundly defeated the local men and women bowlers lined up for the matches.
Other Trivia
Sanction fees were raised from $3.50 to $5 per team, $2 of which went to the ABC. Individual sanctioning had not yet been approved by the KBA due to the higher $1.50 per bowler rate. The increase came after ABC Field Representative Dick McMasters stated that sanction fees were rediculously low for an association our size. The increase was needed to allow the KBA to improve its operations and provide more service to the bowlers.
"Tex" Thornton left three 5-7-10 splits in one game. Oh what Tex would have done for a reactive ball back then!
In 1958, ABC TV began to cover bowling when they showed a 3-game match in a one-half hour time slot.
Veteran Joe Jansen shot a 687 in 1959 after being part of Kokomo's bowling scene for about 40 years.
Summary
That's concludes the Bowling History column for this month. If you have any photographs or interesting stories, please let me know.
Women's Bowling in Kokomo - 1955 to 1960
Women's bowling really got on a roll in the late 1950's. Many ladies were rolling 600 series. Kokomo crowned another women's state champion and Kokomo's all-time women's high game was rolled.
Peg Hawkins Sets Records
Peg Hawkins set the women's high game and series record when she rolled a 298 game and 718 series in March, 1959. Her 298 game still stands as Kokomo's record nearly 40 years later!
High Scores
Ann Kleiber rolled a terrific 277 game in April, 1958. At the time it was one pin short of Lucille Chick's all time record of 278.
Many bowlers notched their first 600 series. Following is a list of the number of 600 series that can be attributed to bowlers in this time period.
Peg Hawkins - 7
Jeneice Kasey - 5
Lucille Chick - 3
Marian Cypher - 3
Virginia Scott - 2
Loretta Guillot - 2
Rosie Currens, Kay Kelly, Tommie Thompson, Virginia Riser, Ann Kleiber, Doris Hesselman, Sara Lu Zehring, Shirley Little and Ellen Eldridge also rolled 600 series.
The McGonigal Buick team set a high game record with 982 in the 1956/57 season. The team rolled in the Topsy Turvy league at Sycamore Lanes.
1956 State Women of the Moose Tournament
Kokomo won several events in the 1956 State Women of the Moose Tournament held in Kokomo.
A team named the Orphans won the team actual and handicap with scores of 2353 and 2883, respectively. Rosie Currens won the singles actual and handicap titles with scores of 574 and 628, respectively. Currens also won the all-events with 1707. Martha Wiezbenski finished third with 1531.
Women's GM Tournament
The first annual Women's GM Tournament was held in Anderson in 1958 with 13 Kokomo teams participating. The men's tournament had been running for about 10 years when the women organized their own event. By 1960, 78 teams participated in the event, again held in Anderson. The Delco Radio team from Kokomo won that year.
State Tournament
Jeneice Kasey captured a State title for Kokomo in the 1958 State Tournament held in South Bend. Kasey rolled a 634 actual series to win the singles event
.
Team Longevity
In 1959, it was noted that the powerful Dietzen's Bakery team had the same roster for 16 years. This team consisted of Elsie Pettay, Virginia Scott, Mary Margaret Halstead, Wilma Long and Opal Edwards. This team won several City Tournament championships.
Don Lowry's Bowling Column Sets a New Standard
Play Bowl manager Don Lowry began writing a bowling column for the Kokomo Tribune on February 2, 1958. The column entitled "The Open Frame" reported on the local, state and national bowling scenes. In addition to recognizing the best scores in town, Lowry would have a little fun with the less-than-stellar performances of local standouts.
Lowry's column would run for over 10 years. Dave Kitchell took over the column for the 1968/69 season and then turned it over to Gene Conard when Uncle Sam had something else for Kitchell to do.
The Open Frame ran the full length of the page and was two columns wide. In the smallish print of the day, this allowed Lowry to provide quite a bit of information.
In his inaugural column Lowry covered the following topics.
- Women's City Tournament
- Men and women notable scores
- Highlights from Kokomo bowlers in out-of-town tournaments
- Junior bowling results (there were 250 sanctioned junior bowlers at Play Bowl)
- Men's City Tournament announcement
- Francis Fisher named "King-Fish" of the Sour Apple Club (You are a member of this club if you leave a 5-7-10 split.) Fisher left this split twice in succession in a $30 pot game!
- National All Star results
- Continental Steel tournament
- Team match play event at Play Bowl against Rochester
Lowry's column set the standard for many years. It set the precedent for the excellent bowling column we still enjoy today. Special thanks should be given to the Kokomo Tribune for their support of the more than 4000 Kokomo league bowlers. Over the years they have provided excellent coverage of bowling that has been sorely lacking in many other towns.